Tuttnauer Elara 11 Pre Post Vacuum Class B Sterilizer Autoclave
Find a lower price? Let us know, and we'll match it!
The Elara 11 Autoclave, with it's 11" chamber continues this tradition by providing an ideal sterilization solution for any clinic where pre and post vacuum sterilization is required. Pre-vacuum phase efficiently removes air, resulting in the full penetration of steam into wrapped, porous and hollow loads. The post-vacuum drying phase ensures complete drying of wrapped porous loads and hollow instruments. This guarantees that even the most difficult loads will easily reach Sterility Assurance Level (SAL). 
Large capacity 11" chamber 19.8" deep
Includes 5 large trays
Can accommodate (4) large 8"x 10" and (4) 8"x5.5" cassettes
EZGlide door featuring a sleek modern look and effortless opening and closing
Innovative EZView bright multi-color display indicates real time cycle information that is easy to read, even from a distance
Designed to meet the most current safety and sterilization standards ANSI/AAMI ST55
EZFill front filling option adds improved accessibility to our traditional top water filling option
Printer that documents a detailed history of each cycle
Memory storage of up to 100 cycles
USB port enables transfer of cycle data
Network port allows for connection to local network
Closed door drying and pre-vacuum air removal: A high volume vacuum pump provides optimum sterilization results and efficient closed door drying. Keeping the door closed throughout the dry cycle maintains sterility and ensures efficient drying. The High-Volume, vacuum pump is very effective at removing moisture from instruments
Clean & Waste water reservoirs; reduces cleaning and maintenance on the machine and provides clean steam for every cycle
Waste reservoir continuous drain; eliminate the need to manually drain the waste reservoir
Comprehensive 1 year parts & labor warranty and 10 year chamber warranty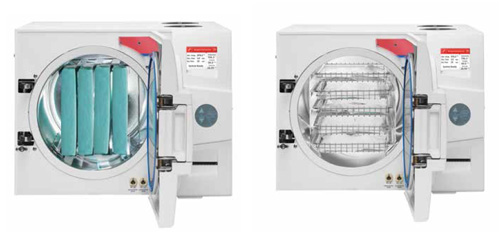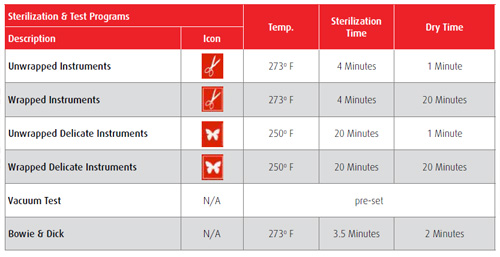 Technical Specifications 
Chamber Dimensions: 11" x 19.8"
Overall Dimensions: 26" D x 20.9" W x 17.3" H
Volume: 7.5 gal.
Voltage: 230V